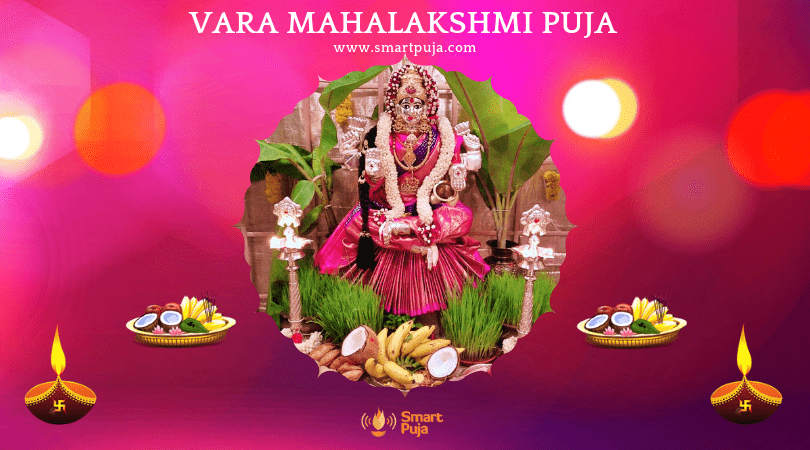 Vara MahaLakshmi Puja
VaraLakshmi Puja is a popular ritual observed by married women in the states of Karnataka, Tamil Nadu, and Andhra Pradesh. VaraLakshmi Vrat is a festival celebrated to appease Goddess Lakshmi, the consort of Lord Vishnu. This festival falls in the holy month of Shravan on the first Friday before the Pournami  (the full moon day), corresponding to the months of July – August. Married women undertake the Vrath for good progeny, good health and wishing long life for their husbands. It is believed that worshiping goddess VaraLakshmi on this day is equivalent to worshiping AshtaLakshmis, the eight forces of energies.
At SmartPuja, we provide an end to end Vedic ceremony. Based on your language preference, we'll assign an experienced Pandit Ji  / Purohit from our team. We'll also send all Puja items and Puja Samagri for the auspicious Puja.
From your end, you'll need to arrange the Prasadam items like Sweets, Fruits and Panchamrit along with Sringaar items (Mangal Dravya), Flowers, leaves etc. Please be ready with the Goddess decoration as per your preference before Purohit arrives for the Puja.
Puja Rituals include :
Ganapati Puja, Sankalpa, Kalasha Aaradhana, MahaLakshmi Aavahana, Shodashopachara Puja, Abhisheka, Ashtottara
Dhoopa, Deepa, Naivedyam, Mahamangal Aarthi, Mantra Pushpa, Prarthana, Aashirvachanam, Prasada Vinayoga etc.
Total duration of the Puja is around 1 hour. Total price is Rs 3500/- all inclusive.
This includes Purohit's dakshina, travel expense, all Puja items, materials.
Booking Process
In order to book the Puja, we'll need some basic information like –
Full Name :
Mobile Number :
Email Address :
Date of Puja :
Location Address :Once the Puja is booked, you'll receive an email and sms with the booking details and an advance payment link of of Rs. 1000/-. This amount is paid online to confirm the booking. The balance amount is to be paid online or in cash to Pandit Ji after completion of the Puja. We'll also send you an email with the list of household items (like Plates, Bowls, Spoons, Deepam etc.) that you'll need to keep ready before the start of the Puja.
Please click on the below link and book the ceremony of your choice!
Call us on 080-61160400 or WhatsApp @ 8884443240 for more details.
Vedic Puja Ceremony| One-Stop solution | Truly Hassle-Free
SmartPuja has a team of Qualified, Knowledgeable and Experienced Pandits who perform Pujas as per your community, language and region specifications. We take care of the entire process including booking and assigning the right Pandit, with best Muhurat. All you need to do is to book the service, sit back and relax while we work on ensuring that you get a satisfying and divine Puja experience.
---