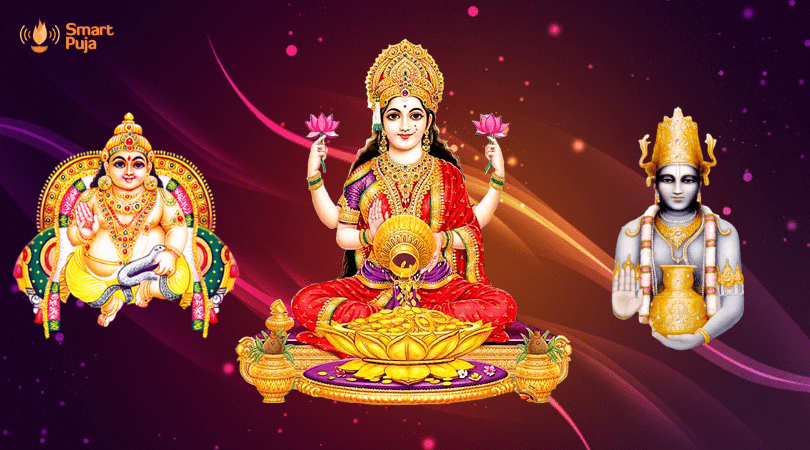 Dhanteras Puja
Dhanteras is the first day of celebration of the five-day long festival of Diwali. On Dhanteras Puja, Lakshmi – the Goddess of wealth, is worshiped to provide prosperity and well being. It is also the day for celebrating wealth, as the word 'Dhan' literally means wealth and 'Tera' comes from the date 13th. The festival of Dhanteras falls in the month of Kartik (Oct-Nov) on the thirteenth day of the dark fortnight. Lord Kuber,the treasurer of wealth and bestower of riches, is also worshiped along with Goddess Lakshmi on Dhanteras. This custom of worshiping Lakshmi and Kuber together is in prospect of doubling the benefits of such prayers.
SmartPuja is a religious startup offering Hassle-Free end to end Sacred Puja services. Based on your language preference, we'll assign an experienced Pandit Ji from our team to perform the Puja as per proper Vedic rituals. We'll also send all Puja items and Puja Samagri etc. for the auspicious Puja. From your end, you'll need to arrange the Prasad items like Sweets, Fruits, Panchamrit and flowers ,leaves etc.

Rituals of Dhanteras Puja
The rituals of this auspicious Puja include:
Ganapati Puja
Kalash Sthapana
Sankalpa
Punyahavachan
Lakshmi Puja
Kuber Puja
Pradhan Devta Puja
Deep Puja
Mahamangal Aarti
Aashivachan
Prasad Vitran etc.
Total duration of this Puja is around 45 – 60 minutes.. Total Price is Rs 3500/- all inclusive.
With Havan, total Price is Rs 5100/- all inclusive.
This includes Pandit Ji's dakshina, travel expense and Puja items and materials included as part of the service.
Booking Procedure :
You can book the Puja on Book a Pandit section of our website or through Call @ 080-61160400.
We'll need some basic information like :
– Full Name:
– Mobile Number:
– Email Address:
– Location Address:
Once the Puja is booked, you'll receive an email and sms with booking details. We'll send you an email with advance booking link of Rs 1000. Your booking gets confirmed once this amount is paid online. We'll also share the list of household items (like Plates, Bowls, Spoons, Napkins etc.) that you'll need to keep ready before the Puja.

Please click on the below link and book this auspicious Puja!
Call us on 080-61160400 or WhatsApp @ 9036050108 for more details.
Vedic Pujas | One-Stop solution | Truly Hassle-Free
---