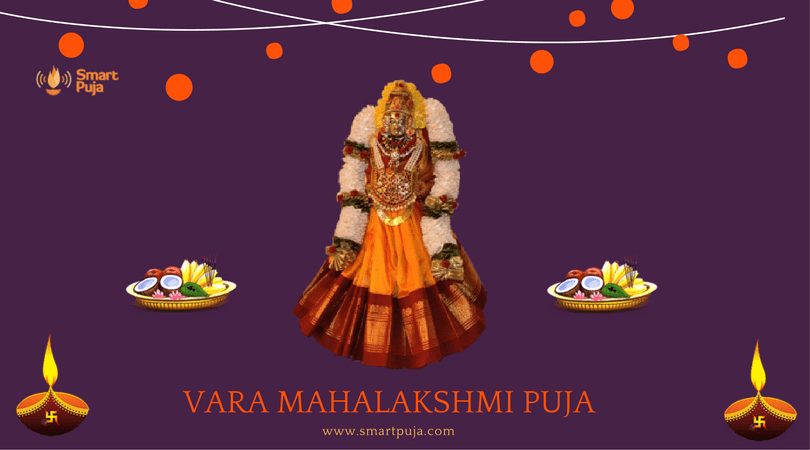 Vara MahaLakshmi Puja and Vrath is a popular ritual observed by married women in the states of Karnataka, Tamil Nadu, and Andhra Pradesh. Vara MahaLakshmi Vrath is a festival celebrated to appease goddess Lakshmi, the consort of Lord Vishnu. This festival falls in the holy month of Shravan on the first Friday before the Pournami  (the full moon day), corresponding to the months of July – August. Married women undertake the Vrath for good progeny, good health and wishing long life for their husbands. It is believed that worshiping goddess Vara MahaLakshmi on this day is equivalent to worshiping AshtaLakshmis, the eight forces of energies.
A Brief Story
The story happens in a beautiful town located in the Kingdom of Vidarbh. Pleased with Charumati's devotion to her husband and family, Goddess Lakshmi appears in her dream and asks her to perform the Vara MahaLakshmi Vrath. The pious Charumati invites all her neighbours, friends and relatives and performs the Vara MahaLakshmi Puja as directed by Goddess Lakshmi. Soon after the puja, all the people who participated in the puja were blessed with wealth and prosperity. When other ladies heard of her dream and her worship of Lakshmi, they too began to worship her, and the custom is then said to have spread everywhere throughout the land in course of time.

Puja Vidhi
Ashtadala Padma Rangoli (Ashta is 8, dala is leaf, padma is lotus) is drawn on a wooden plank which is tied with mango leaves and banana stems on both the sides. A Kalash is kept on a plate spread with rice. Lamps are lit on the either sides of the kalash. Kalash is filled with rice, water, beetel nuts, beetel leaves, khajur(dry dates) and one coin. Turmeric and kumkum is applied evenly to a coconut without husk and is kept on the kalash with mango leaves surrounding it. Face of goddess(eyes and nose) can be drawn on the coconut or the ready silver faces are available which can be tied to the coconut.Yellow thread(turmeric) with nine knots are kept on beetle leaves to the right of kalash.
Vara MahaLakshmi Puja  is celebrated as a special day for women folk and promises wealth and prosperity for all those who participate in the puja.
Book a Pandit for Vara MahaLakshmi Puja for the Auspicious Day
---