Rangoli is a vibrant type of floor decoration art originating in India's protracted Hindu heritage. Although the Griha Pravesh Rangoli, or the floor art, has undergone countless alterations, people continue to find it appealing.
When there's a Griha Pravesh Puja or entrance to a new house or residential setting, women of the particular family clean the house early morning and design a welcome rangoli on the entrance of the house using many colors or certain religious figures and symbols requesting their blessings. 
What Is Rangoli? Why Do People Need Griha Pravesh Rangoli?
A rangoli is usually a stunning color design typically painted on the front steps of residences and entrances of people following Hinduism at a special festival, occasion, puja, or family wedding. Rangoli design is created using a wide range of colored granules or powders.  
Multiple rangoli designs, including Kalash rangoli, are based on the divinity you want to invoke. The best tithis for Griha Pravesh are Dashmi, Dwadashi, Dwitiya, Ekadashi, Panchami, Saptami, Shashti, Thrayodashi, and Tritiya.
SmartPuja Provides The Best Griha Pravesh Puja
SmartPuja provides its finest services for an ideal Griha Pravesh Puja in many cities, including the following
Ahmedabad
Bangalore
Chennai
Delhi-NCR
Hyderabad
Kolkata
Mumbai
Pune
You can book Griha Pravesh Puja and get a blissful experience since the puja is performed by well-known and best purohits and pandits for Griha Pravesh Puja in the language you prefer. 
The other services offered by SmartPuja are-
Decorative
Puja materials
Events and many more
Connect with SmartPuja through:
Simple Rangoli Design Ideas For Griha Pravesh
1. Chowk Purn Rangoli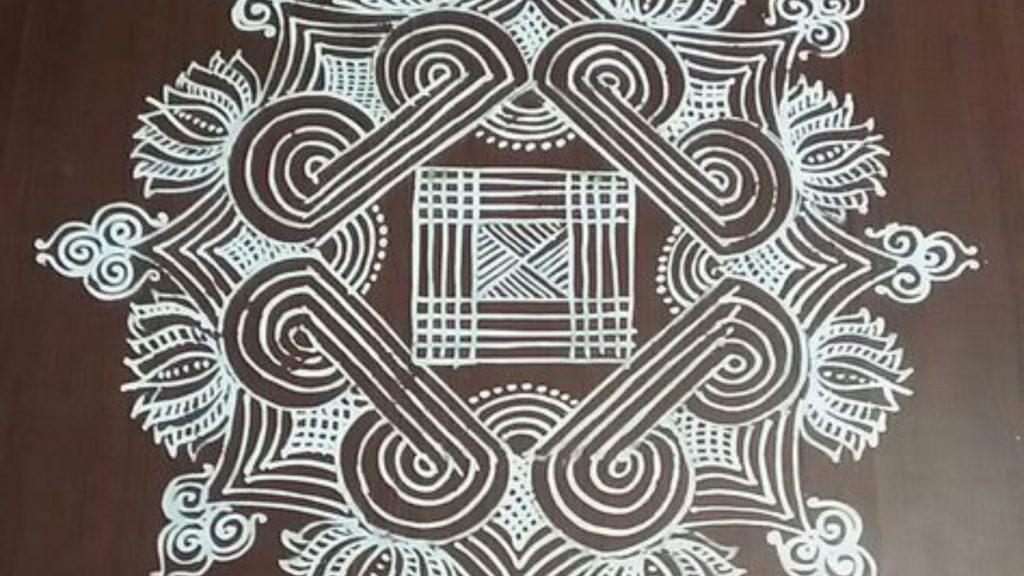 Estimated Time – 25-30 Minutes
A chowk purn is among India's straightforward and uncomplicated rangoli patterns. For big pujas or Griha Pravesh Pujas, older ladies continue to design greetings for visitors. Chawk is very lucky and is considered to appease every goddess and deity. Wheat flour, turmeric, and vermilion are used to make it.
2. Peacock Rangoli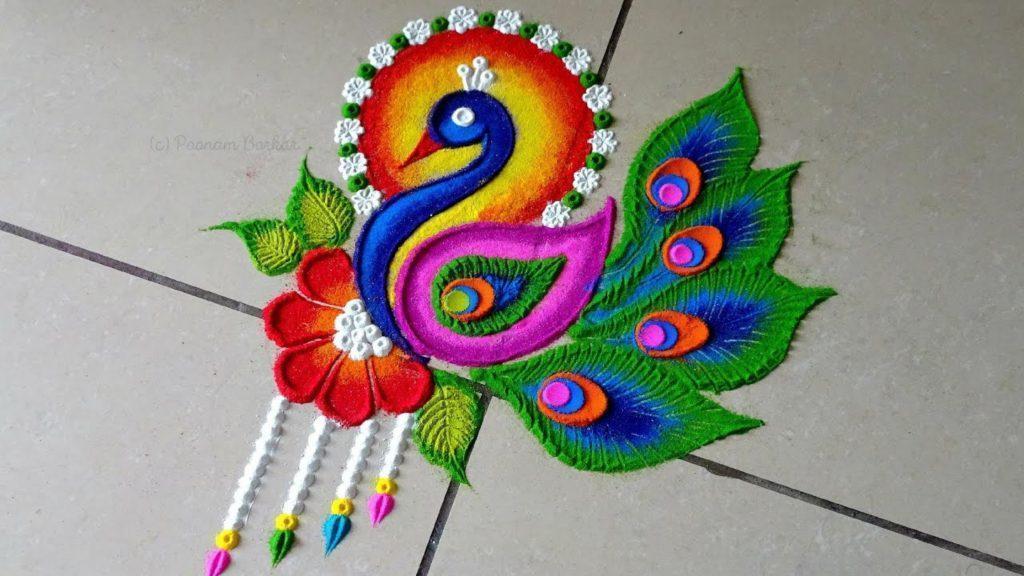 Estimated Time – Minimum 1 Hour
Due to its auspicious nature and the vibrant colors utilized to create it, the Peacock rangoli design is among the most well-known and straightforward rangoli patterns. The entryway to your house can be decorated with this simple rangoli pattern to add colorful and aesthetic appeal.
3. Freehand Rangoli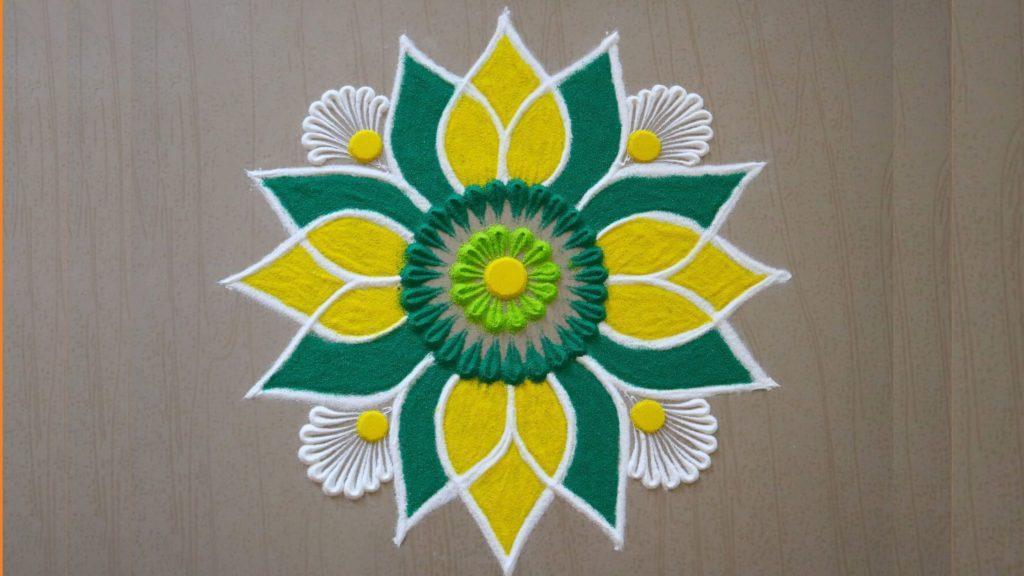 Estimated Time – 30-40 Minutes
It is among the most well-liked and frequently utilized varieties of Rangoli. Many Griha Pravesh pujas are decorated with these rangoli designs in different colors. Besides, it beautifies your spaces with a fine touch of art.
4. Flower Petals Rangoli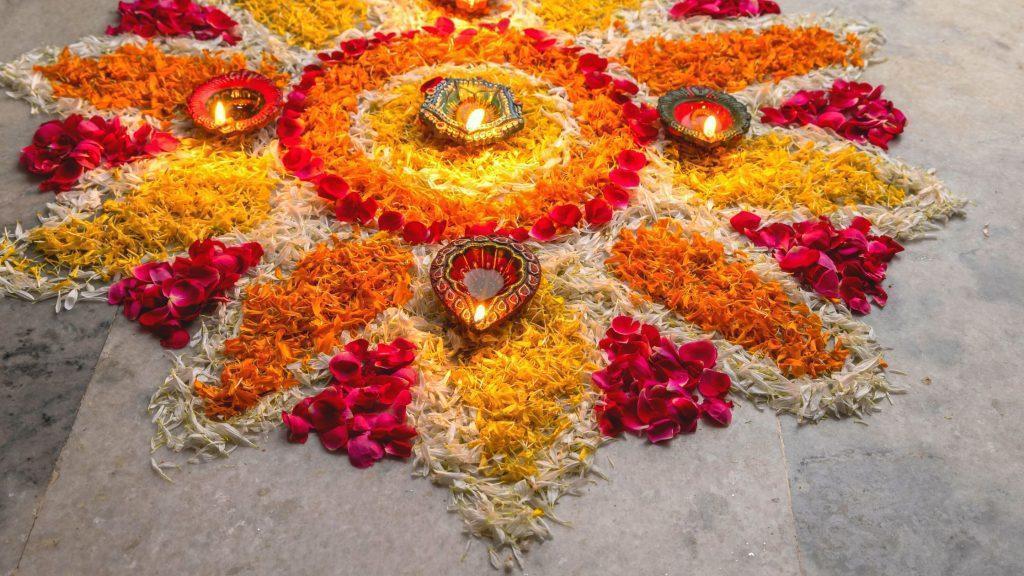 Estimated Time – 15-20 Minutes 
Griha Pravesh flower rangoli is a straightforward rangoli design made with flower petals. In addition to the lovely aroma of flowers such as lotuses, marigolds, and roses, the flower petals also have a pretty pleasing appearance to the eye. Such rangoli is also used for the Griha Pravesh of a bride.
5. Alpana Rangoli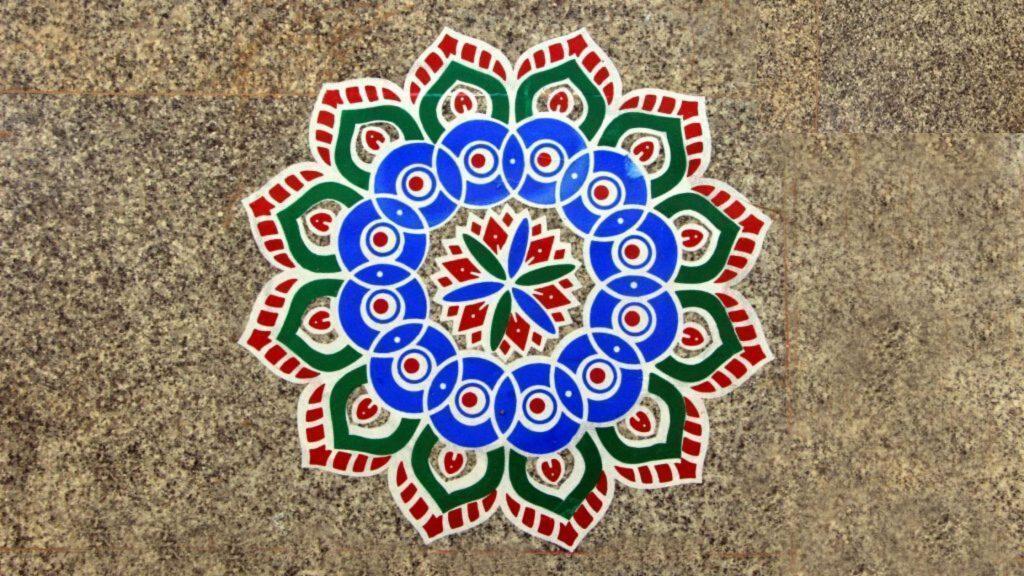 Estimated Time – 30-40 Minutes
Alpana, a variety of Rangoli made from a rice-grinded paste, is considered the most fortunate variant. The ability to create this Rangoli using three fingers makes it special.
Green Color Rangoli Designs For Your New Home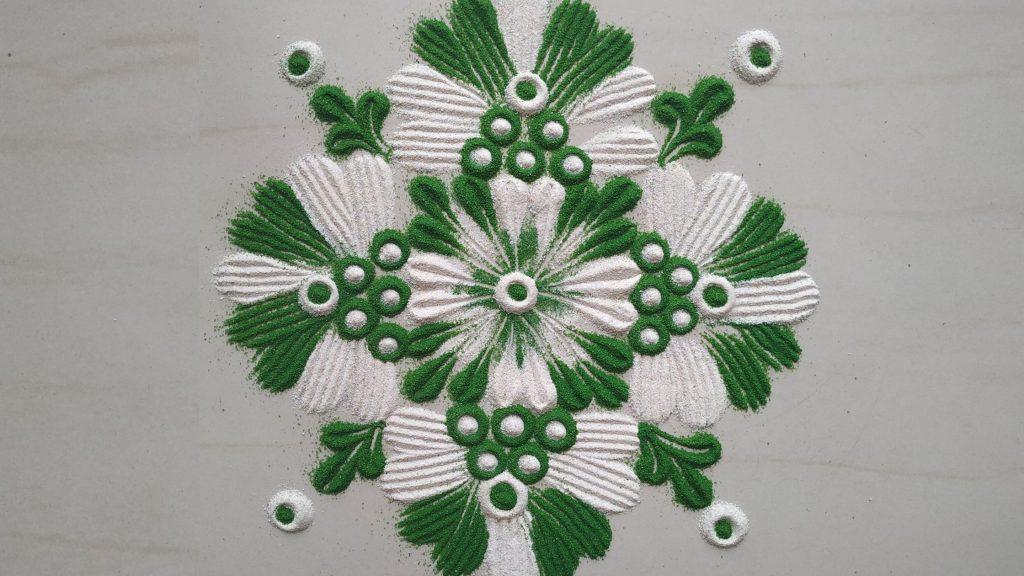 The colors and patterns in Griha Pravesh Rangoli patterns have different symbolic meanings and significance. Since harmony is signified by the green color, designing rangoli in green for Griha Pravesh will bring compatibility and coordination and form a pleasing environment to your house.
Red Color Rangoli Designs for Auspicious Entrance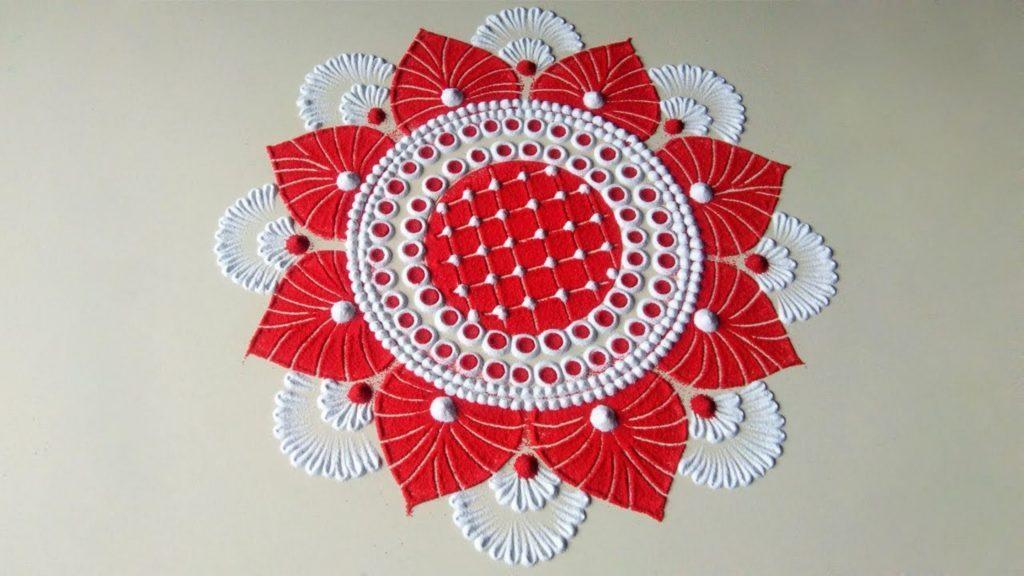 Strength is signified by the red color, so making red rangoli for Griha Pravesh puja will give endurance and vitality to your house and family. This freehand rangoli is known for its design and art combination and is the best to decorate your entrance.
Yellow Color Rangoli Designs For Auspicious Entrance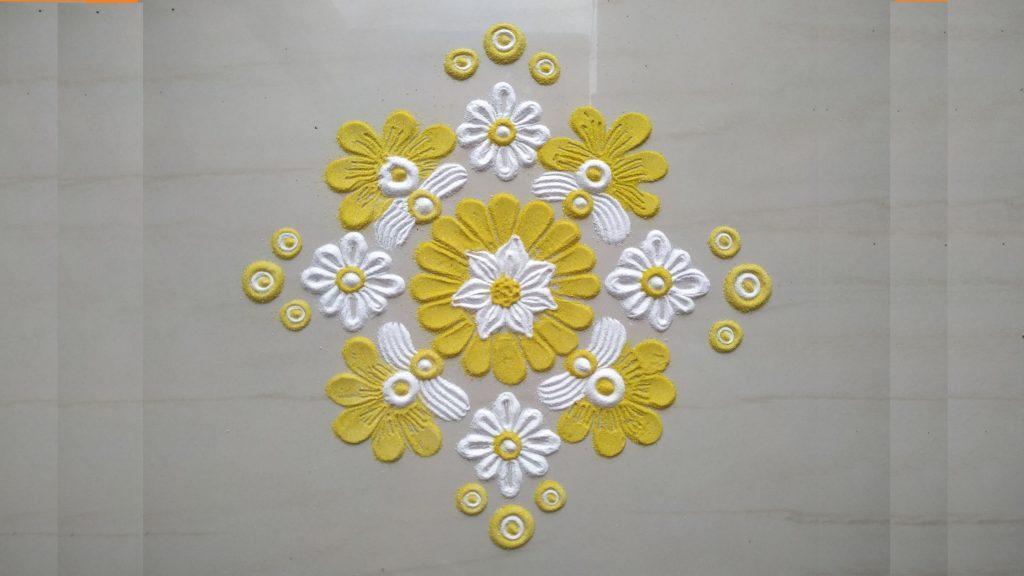 Wealth is signified by yellow, so rangoli in yellow will bring peace and wealth to your house. 
Multi-Color Rangoli Designs Are Best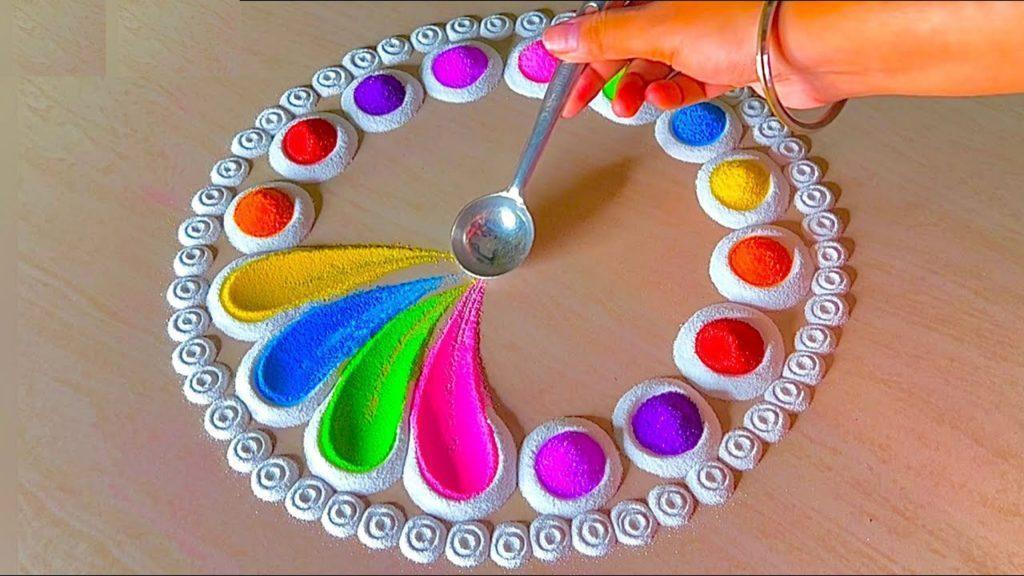 Multi-colored rangoli is often used for many festivities since the meaning of rangoli is full of colors. It is a simple rangoli for Griha Pravesh and is vibrant due to its pleasing design and easy-to-design.
Rangoli Designs With borders For Compact Places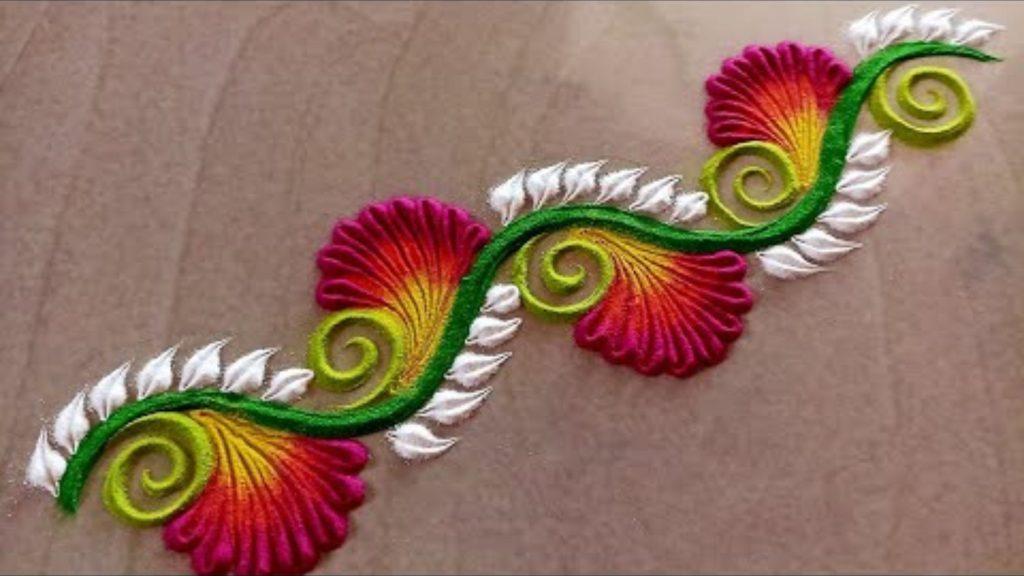 Border rangoli is ideal for compact spaces where designing is challenging for Griha Pravesh Puja. It gives a pleasant look while fulfilling your purpose of getting blessings.
5-Finger Griha Pravesh Rangoli Art- Even Your Kid Can Make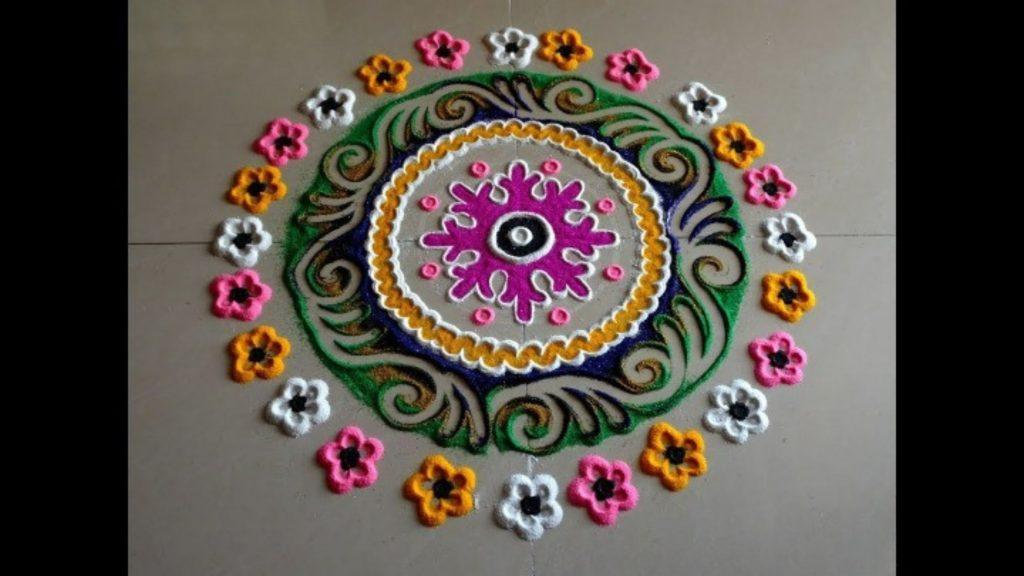 Finger rangoli is very easy to design. You can create any pattern, including Swastik, Om, or other religious symbols for Griha Pravesh Puja. All you need to do is either trace the pattern or free-handedly sprinkle the color in the design you wish.
Ganpati Rangoli Ideas-Everyone Loves Them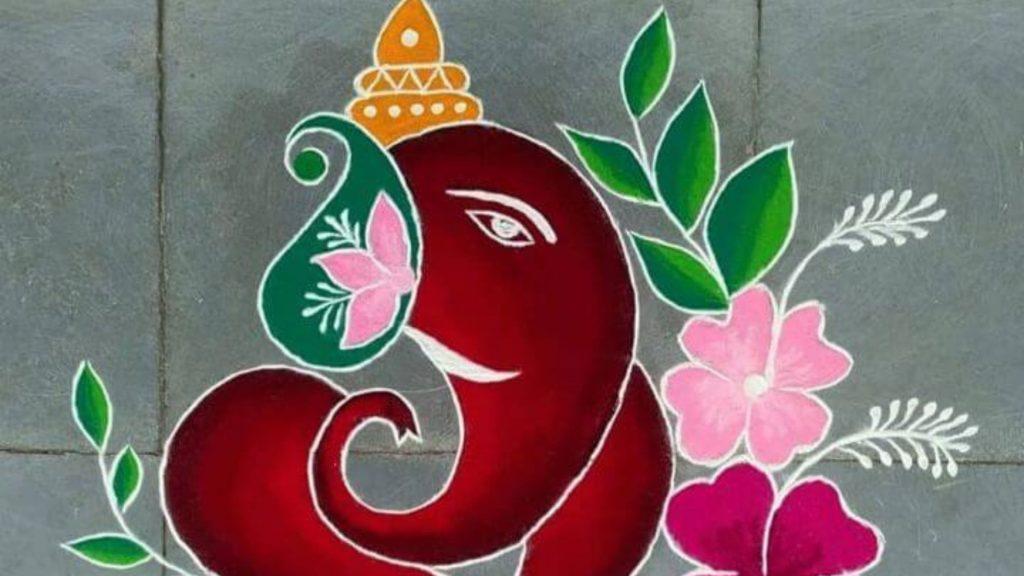 Ganpati rangoli can be created using many materials, including leaves, flowers, beads, etc. It is the most loved rangoli by everyone.
Traditional Vastu Shanti Griha Pravesh Rangoli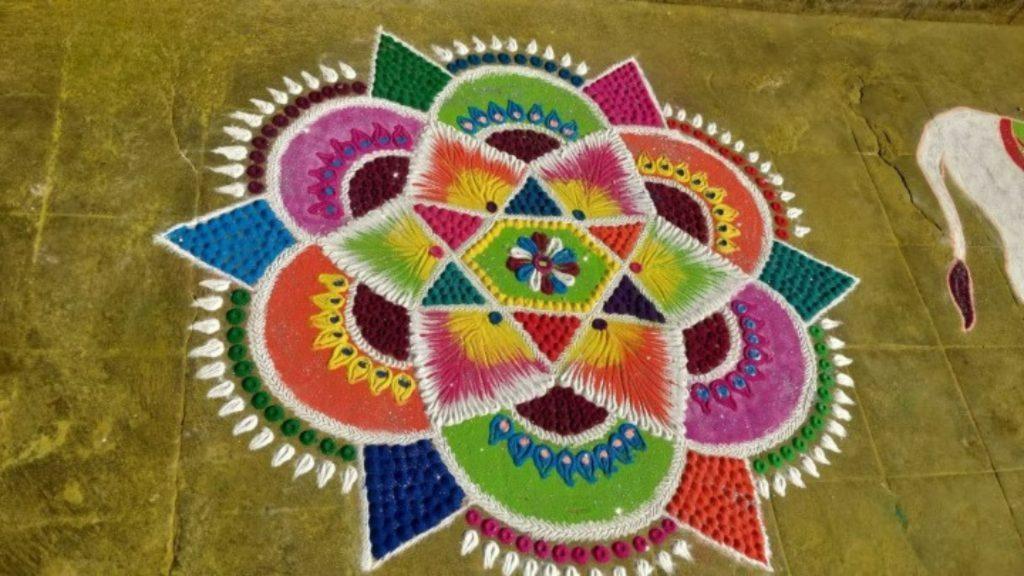 Goddess Lakshmi is welcomed into the house by a rangoli for Vastu Shanti. It salutes the wealth and success entering the home. Such rangoli is thought to prevent evil spirits when placed on doorknobs or at the entrance to a dwelling. The light's colors usually follow the colors of such rangoli for Vastu Shanti puja.
New Griha Pravesh Decoration Ideas for 2023
A few ideas for Griha Pravesh decoration are:
Floral decorative
Leaves decorative
Illuminate with diyas or lights
Powder rangoli of dried leaves
Rangoli of rice flour, turmeric, etc.
Aromatic candles and incense sticks
Conclusion
You can have the best puja experience at SmartPuja and sign up for a demo or look at the services offered to your doorstep. Also, you can follow us on Instagram for additional designs and patterns or subscribe to YouTube to have a virtual experience of the pujas and services we offer. SmartPuja also provides you the option for Online Puja or e-puja for a better experience.