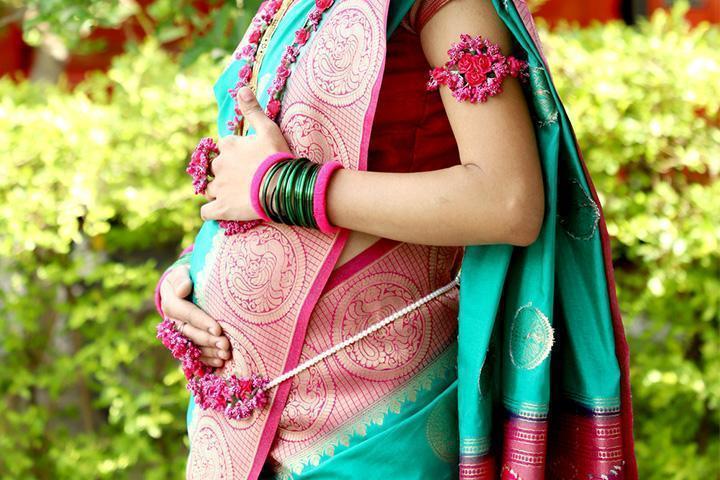 Since being pregnant is a beautiful experience and the best period in a woman's life, she must rejoice with her friends and family. A Godh Bharai focused on food, entertainment, and blessings for the expecting mother and child is now widely called Baby Shower. This celebration involves a lot of little things, from the setting and attire to the kinds of gifts the mother-to-be must get.
The ceremony is done to bless the mother-to-be with joys and blessings and welcome the unborn baby to the family- filling the lap with abundance. SmartPuja expert Vedic pandit assistance in Godh Bharai Ceremony issues a unique and memorable religious experience, blessing the expectant mother with positive vibes and blessings to deliver a healthy baby. We are an online platform facilitating professional pandit booking for 400+ unique pujas and homas, astrology services, e-puja service, and other additional assistance, including catering, florist, photography, and others.
Connect with our experts at 080-61160400 to know more.
Our expert professionals share some facts about Godh Bharai's customs and history and the best suggestions for arranging a Godh Bharai or an Indian baby shower.
What is Godh Bharai? 
Godh Bharai is a lovely Indian custom that bestows blessings on the pregnant lady and baby. The Godh Bharai meaning is to "fill or load the lap with abundance." It's a celebration where women get together with the expectant mother to exchange gifts, play games, and eat delicious food.
Although it may appear like a typical baby shower, the new mother is the main emphasis, and she is typically the recipient of the gifts. Based on the Indian regions where the celebratory family hails, there are various more traditional Indian celebrations.
What is the Difference Between a Baby shower and Godh Bharai? 
The traditional "godh bharai" ceremonial focuses primarily on the family. Typically, friends stay out of it. But friends and enjoyment are the main themes during baby showers. The mother-to-be is forced to wear a thick saree and jewelry. She should sit and look like a doll during the traditional rites even though she feels sick from the baby's kicks and bumps.
Baby showers, however, are unique. They are organized by friends for the prospective mother and include games, fun activities, and waves of laughter. However, Godh Bharai baby showers are the same as both are planned to bless the unborn baby and mother-to-be with blessings.
When Should you Plan for Godh Bharai? 
Godh Bharai is usually done around the pregnancy's seventh month. A few also perform the ritual in the woman's sixth or eighth month of pregnancy.
Shubh Muhurat 2023 for Godh Bharai 
The muhurat for Godh Bharai is based on the Panchang and Hindu calendar. The Hindu baby shower, or godh bharai, is seen as an auspicious ceremony. The ideal dates from January 2023 to August 2023 for carrying out this significant ritual are listed below.
January 2023: 1, 3 (after 04:30 p.m.), 4, 5, 13 (till 06:00 p.m.), 14, 18 (till 05:10 p.m.), 22, 24, 26, 27, and 31.
February 2023: 3, 4, 5 (after 10:55 a.m.), 10, 11, 12 (09:35 a.m.), 14, 22, 23 (till 02:10 p.m.), 24, 27 (after 04:20 p.m.), and 28.
March 2023: 1, 3 (after 09:11 a.m.), 4, 9, 11, 13 (from 08:20 a.m. to 09:27 p.m.), 17 (after 02:07 p.m.), 18, 22, 23, 26 (after 02:01 p.m.), 27, 28 (till 07:01 p.m.), 30, and 31.
April 2023: 3, 5 (till 09:19 a.m.), 6, 7, 8 (till 01:58 p.m.), 9 (from 01:59 p.m. to 10:13 p.m.), 14, 15 (till 10:00 a.m.), 16, 22, 23 (till 08:01 p.m.), 24 (after 08:24 p.m.), 26, 27 (till 01:38 p.m.), and 28.
May 2023: 2, 3, 4, 7 (till 08:29 p.m.), 11 (till 11:27 a.m.), 12, 14 (till 06:34 a.m.), 16, 21, 22, 24, 25, 29, 30 (till 08:53 p.m.), and 31 (after 08:13 p.m.).
June 2023: 1, 3 (from 6:17 a.m. to 11:15 a.m.), 7, 8 (till 06:55 p.m.), 10, 12, 13 (after 9:31 a.m.), 14, 20, 21, 26 (after 01:12 p.m.), 27, 28, 29 (till 03:04 p.m., and 30 (after 04:12 p.m.).
July 2023: 1 (till 03:00 p.m.), 5 (from 7:49 a.m. to 08:14 p.m.), 7, 9 (after 09:09 a.m.), 10, 11, 14 (till 7:14 p.m.), 19, 23, 24, 25 (till 3:05 p.m.), 26, and 28.
August 2023: 1 (after 01:52 p.m.), 2, 3, 5, 7 (after 04:46 p.m.), 10 (till 4:30 p.m.), 19, 20 (till 11:19 a.m.), 21, 22, 24 (from 03:31 p.m. to 8:32 p.m.), 28, and 29.
How to Plan the Godh Bharai Ceremony? 
Rituals
Each woman participating in the godh bharai ritual whispers encouraging words into the expectant woman's ears. She wishes her well in a low voice or reassures her that her wishes will definitely be true and that she will be blessed with a baby boy or a girl. Dance and singing rejoice in the arrival of a new family member as the ritual comes to a close.
During the Godh Bharai event, the expectant mother is served delectable food, typically made by her mother-in-law or the mother. For the godh bharai event, all of her favorite dishes have actually been prepared.
Puja or havan is also planned during Godh Bharai Ceremony to eliminate any negative powers from surroundings, assuring perfect health of the expectant mother and baby.
Samagri Needed
Kalash, janaeu, kumkum, Patra, coconut, moli, and roli.
Who Does the Godh Bharai Rasam?
The event is typically hosted by the mother-to-be's in-laws or her parents.
3 Unique Ideas to Make your Godh Bharai Memorable
You could set up various games to keep the visitors entertained. It will make things more enjoyable. Choose someone to oversee the games as well. Printable activities for baby showers are fun to use. There are many games available online that you may play with others.
You may use more traditional ornaments, such as lights and flowers. Nowadays, many baby shower accessories are accessible, including Godh Bharai flower jewelry, Godh Bharai hairstyle options, balloons in the shape of babies, and items with "mom-to-be" printed on them. You may also go as per the Godh Bharai theme for the entire ceremony.
Professional Pandit Assistance for Successful Religious Ceremony 
You can hire and book a pandit through Smart Puja for Godh Bharai since their knowledgeable pandits and purohits will guide you with all the following rituals and help you get the utmost blessings.
Godh Bharai Food Rituals in Different Parts of India
Godh Bharai Celebrations in North India
On the special day of Godh Bharai, the expecting mother is decorated with new clothing, jewelry, and flowers and brought into the home via the central doorway to the puja area. Women begin singing a few traditional songs as she arrives to lift their spirits.
After performing puja to pray for the well-being of the mother and the unborn child, all the married women greet the expectant mother by placing a tikka on her forehead. She is then showered with gifts, fruits, and sweets by the women.
The pandits North Indian Pandits from Smart Puja will perform the Godh Bharai ceremony as per the North Indian culture.
Godh Bharai in Tamil Nadu 
The Godh Bharai day is known as Valai Kappu in Tamil Nadu. The expectant woman is adorned in a black saree and green and red bangles to fight off evil spirits. At least four distinct temple visits are a vital component of the ritual, emphasizing temples.
The Tamil and Telugu Pandits booked from Smart Puja will help you perform every ritual per your tradition.
Godh Bharai in Maharashtra 
In Maharashtra, Godh Bharai is referred to as the Dohale Jevan. This Marathi phrase means "to satiate the appetite." As implied by the title, there is a strong focus on the culinary side of this event, with wholesome meals like sweet chapati and rice making an appearance on the menu. This ceremony's gender associations with every food that could be used to create a gender guessing game are intriguing.
Marathi Pandits for Godh Bharai by SmartPuja may help you with details of rituals and ceremonies.
Significance of Godh Bharai 
The cultural innovation of Godh Bharai could be understood in its historical background. Pregnancy is generally safe because of contemporary medical technologies and specialized care development.
Even one hundred years ago, there was a significant mortality rate, and several women died from different issues, including heavy bleeding. So, this ritual is an essential component of the ceremony because Godh Bharai occasionally marks the beautiful journey of the newborn baby and expectant mother.
Do's and Dont's in Godh Bharai Ceremony
Do's:
Make the event joyful, specifically for the mother-to-be.
Book a pandit to organize the event and puja adequately.
Don'ts:
Mom-to-be must not work.
Do not include horrifying games or acts in the ceremony.
Why Do You Need To Hire A Pandit For Godh Bharai? 
Hiring a pandit is essential for the Godh Bharai to let the ritual be performed traditionally and perfectly. You can connect with SmartPuja to carry out a puja for your Godh Bharai rituals while adhering to all the customs. Our knowledgeable pandits and purohits will perform your Puja on a lucky day.
We offer our services in several cities, including Ahmedabad, Bangalore, Chennai, Delhi, Kolkata, Hyderabad, Mumbai, and Pune. For further information, get in touch with us at.
Frequently Asked Questions 
Q1. How much time does it take to complete the puja?
It usually takes about one to three hours for Godh Bharai puja to be performed.
Q2. What are the benefits of Godh Bharai puja?
Godh Bharai puja is said to generate positive energy, revive the mother's spiritual dimension, and achieve mental serenity. It also aids in the baby's complete wellness and excellent health.