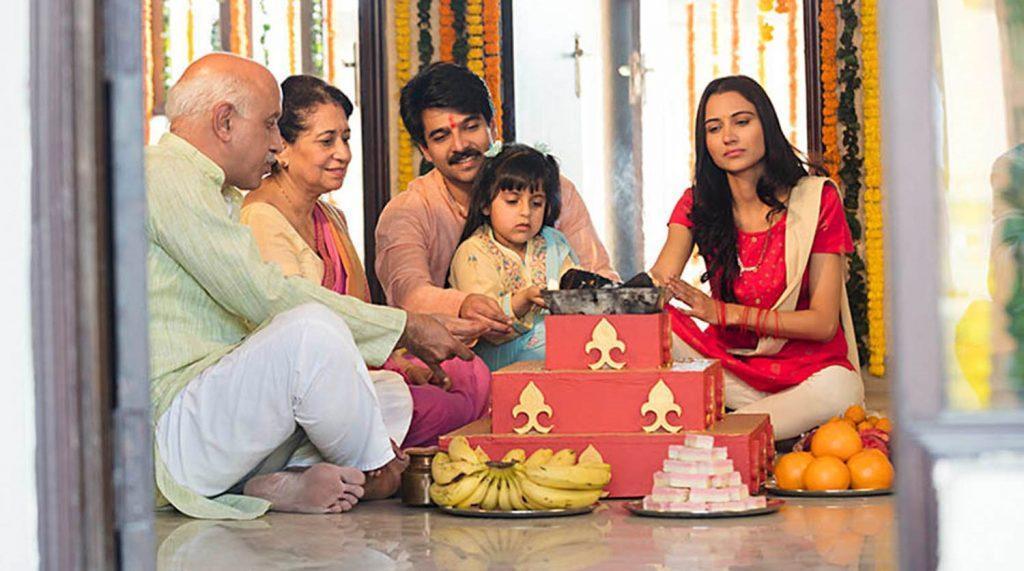 Birthdays are special for everyone. We celebrate that we are a year older, successfully lived another year, and take the blessings of elders and god for another sublime year. Doing a pooja on one's birthday not only brings prosperity and good health, but it is also a way of thanking god for giving you such a beautiful life. Holding a proper pooja with pandit chanting mantras is an excellent way to start your birthday, and now finding a pandit has become much more manageable. Thanks to SmartPuja where you can easily book pandit online.
SmartPuja offers hassle-free online pandit booking services for Birthday Puja in different languages, including Maithili, Hindi, Bengali, Gujarati, Kuamoni, Marwadi, Odia, English, Kannada, Konkani, Malayalam, Marathi, Tamil, Telugu, and Tulu.
What Pooja To Do On A Birthday?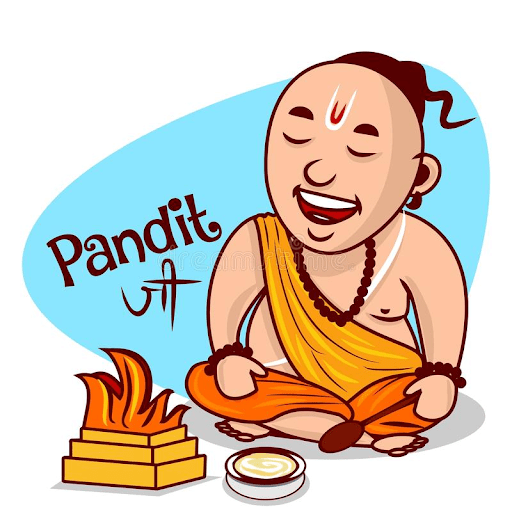 Janam Din Pooja
This Pooja is done on your birthday to garner the blessings of Markandeya Rishi and Lord Ganesha or Isht Deva. It takes 10-12 Hours to perform this pooja. This pooja contains Poorvang Karma, Ashtottara Namavali Path, Pooja of Markandeya Rishi and Lord Ganesha, Ganesh Stotra path, Jaap, Homa, and prayer of Markandeya rishi and Lord Ganesh.
Janamdin pooja will bring prosperity, happiness, harmony, and a good omen in your life. It will remove negativity and bring positivity to your life. Malefic planetary combinations are removed, and you can enjoy the positive effects of the same. A Janamdin puja has a curative impact on your Kundli, as an unfavorable planet in your birth chart can no longer cast its ill spell.
Special Pooja On Birthday
You can do some specific poojas and havan to please god and the planets. If you have any particular problems in your life, you can perform pooja and homam according to that. Some of the pooja and homam you could do on your birthday are Mrityunjaya Homam, Navagraha Homam, Gandmool Nakshatra Shanti Puja, Nakshatra Shanthi Homam, and Budha Shanti Puja and Jaap.
Pooja For The First Birthday
To celebrate your child's first birthday, you could do Ayush Homam per their Janma Nakshatra. In this, you take blessings of god Ayur Devatha, the god of life. Performing this pooja brings good health, wealth, and long life. According to Bodhayana sutras, you can do this homam regularly if your child falls ill often until the child gets better. During a child's Namakarm Ceremony, learned Vedic pandits perform Ayusha homam, wishing for wellness and happiness for the child.
Ashthachirinjivi Puja
The meaning of Ashtha is eight, and Chiranjivi means deathless, which together means 8 Deathless sacred Gods and Saints.
In this Puja, the following eight gods are worshipped – Hanuman, Kripacharya, Vibhishan, Parashuram, Ashwathama, Daityaraaj Bali, Markandeya Rishi, and Ved Vyasji, as they are considered immortal. Performing this puja brings prosperity, health, and longevity to your life.
The effects of this puja also improve academic performance and financial condition. This puja also saves the individual and their family from ill fate and sorrows. Our pandits will need the following information to perform this puja from the host to perform Ashthachiranjivi Ceremony:
Name 
Gotra of Native
Father's Name 
Birth Date 
Birth Location 
Satyanarayan Puja on Birthday
Satyanarayan Puja is done to worship the lord Satyanarayan who is the manifestation of Shri Vishnu. Performing this puja on a birthday brings content and removes all the sorrows in your life. In this puja, the pandit recites the Satyanarayan Katha. When performing this puja, the individual has to fast with devotion, and they will get rid of all woes.
Benefits of Birthday Pooja
There are many benefits of performing birthday pooja, such as:
Birthday Puja can decline the malefic effects on the planets, giving the blessings of positive impacts.
It also eliminates the negative energy from your life, thus bringing positivity.
Performing this puja provides you with a long life
The effects of this ceremony help maintain good health and free the body from any distress and diseases.
This ritual is especially beneficial for children as its effects improve their academic performance.
Home finances improve over time and remain stable. Thus you will never face any financial trouble.
This puja brings happiness and prosperity to your and your family members' life.
You will lead a happy family life since the effects of the puja will remove all the sorrows from life.
It will help you lead a long, happy and healthy life.
The result of this pooja protects an individual and his family from ill fate.
Birthday Pooja Mantra
Gajananam bhutganadhi sevitam,
Kapithjambufalcharu bhakshanam,
Uma sutam shokvinashkarakam,
Namami vighneshwar padupankaiam
In Hindus, any pooja or any occasion starts with the worship of the lord Ganesha. So chanting the Ganesh Mantra on your birthday may fulfill all your wishes.
Birthday Puja Samagri
For your birthday pooja, you will need –
Dakshina for Brahmin, Aarti, Deep Prajjawlit, Kalash Sthapana, Navagraha Sthapana, Ganpati Sthapana, Sandalwood Powder, Purnahuti, Asthagandh, Til, Sugar, Ghee, Homam with Honey, Ayush Mantra Jaap, Shivlinga of any size, Ganesh, Laxmi, Sankalpa, Swasti Vachan, 64 yogini Pujan, Shodash Matrika, Shetrapal Pujan, Punyavachan, all under the Panchang Sthapana and Kalash Sthapana.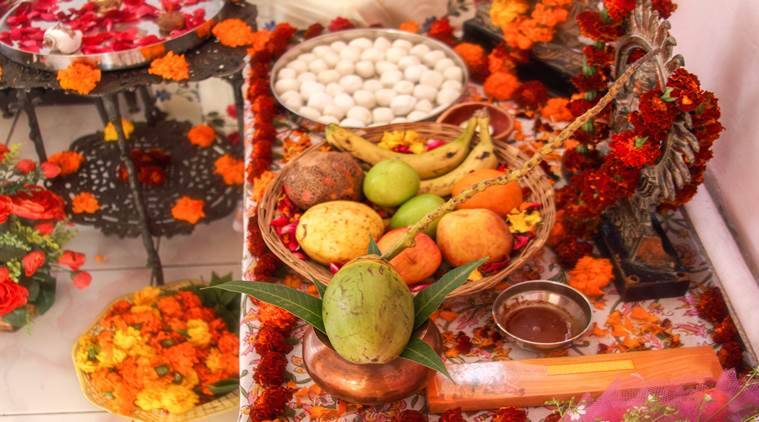 Birthday Pooja Vidhi
Devotees can offer prayers themselves, or a pandit can do so on their behalf. For all the benefits of puja, one can also perform the Satyanarayan Puja. With SmartPuja, you can easily book Satyanarayn Puja in different languages, including- Hindi, Kannada, Telugu, Tamil, Maithili, Bengali, Odia, Tulu, Konkani, Kumaoni, English, 
Marathi, Marwadi, Gujarati, and Malayalam. 
There are various rituals and traditions that you can incorporate into puja according to what occasion it falls on. The ceremony begins with Ganesh Puja, and Navagraha Mantras are recited along with other mantras. There is also a Gayatri Havan, which Gayatri Mantras accompany.
Birth Day Puja Time
A birthday is a day when we feel special, realize that we have yet again lived another year, and wish for more happy years ahead. Performing pooja on your birthday is a good idea to express your gratitude and devotion. You must complete the birthday pooja in the early morning on your birthday, and the Panditji will decide the exact puja time according to Vedic maths. Performing this puja will bring love and happiness to your life by removing all the obstacles.  
Book Birthday Puja with SmartPuja?
To Book a Pandit from SmartPuja for a Birthday Puja is quite simple. You will have to visit their website www.smartpuja.com, and you have to choose the puja you want to do and enter your details like-
Full Name:
E-mail Address:
Mobile Number:
Date of Puja:
Location Address:
After you submit this form, we will send you all the filled bid-booking details and the link for 30% of the advance booking amount confirmation via e-mail and SMS. In addition, we will mail you a checklist of household items you need to prepare before the puja begins, such as plates, bowls, spoons, etc. 
Your work is done here; now, SmartPuja will handle all arrangements. Now it's time for you and your family to experience the wonders of birthday pujas and take god's blessings. After completing the puja, you must settle the remaining amount in cash or online. If you want to perform a puja not mentioned on the website, then you can inform us via E-mail, Whatsapp, or phone, and we will do it exclusively for you. 
Call us on 080-61160400
or
WhatsApp @ 9036050108 or E-mail – namaste@smartpuja.com for more details.
Vedic Puja Ceremony | One-Stop solution | Truly Hassle-Free
Some of Our Customer Reviews
Frequently Asked Questions
1. What is the average length of time to complete the Pooja/Havan?
It takes an average of two hours to complete a birthday puja. 
2. Is there anything I should have ready for the pooja, and how would I know?
After booking your Puja Services with SmartPuja, our expert will help you with a checklist of all the items and utensils you need to collect for the ceremony. The priest will also bring all the required materials to help you with a pleasant puja experience.
3. Will I have to pay any extra Dakshina to the priest? Or Should I give the priest any additional Dakshina?
No, you only need to pay the amount mentioned for the Puja on our portal. It will include all the traveling charges, Dakshina, and puja samagri costs.
4. If I select Hindi as my language, who will perform my puja?
SmartPuja gives you the option to select puja in different languages. According to your preference, we will assist you with the best pandit well-versed with the desired tone. 
5. If the pandit does not arrive on time, what should I do? Or When the pandit does not show up on time, what should I do?
Being a hassle-free religious platform, we will; provide you with all the details for assigned Panditji along with a tracking link. Contact our expert service providers to know more.