From keeping the evil eye away to cleansing the body while adding an extra glow, Haldi holds an essential significance in Indian weddings.
Each ritual in Indian culture has a unique historical symbolism, especially the Haldi Ceremony, which marks the beginning of wedding festivities and drives away pre-wedding jitters. The yellow turmeric shade of Haldi is considered auspicious as it ushers prosperity, togetherness, and happiness into the life of a new couple.
Apart from being a fun event, the Haldi ceremony signifies the beginning of wedding rituals and Puja. Thereby, hiring a pandit for the ceremony will reflect an auspicious start.
If you're also planning your wedding ceremonies and looking forward to advancing pandit booking to eliminate any last-moment stress, SmartPuja will help you.
SmartPuja is an online religious platform with 1200+ registered pandits and purohits, offering 400+ unique Puja services, including-
We also offer multiple other e-puja and astrology services in Bangalore, Chennai, Delhi, Kolkata, Ahmedabad, Mumbai, Pune, Hyderabad, and many other cities.
Significance of The Haldi Ceremony In Hinduism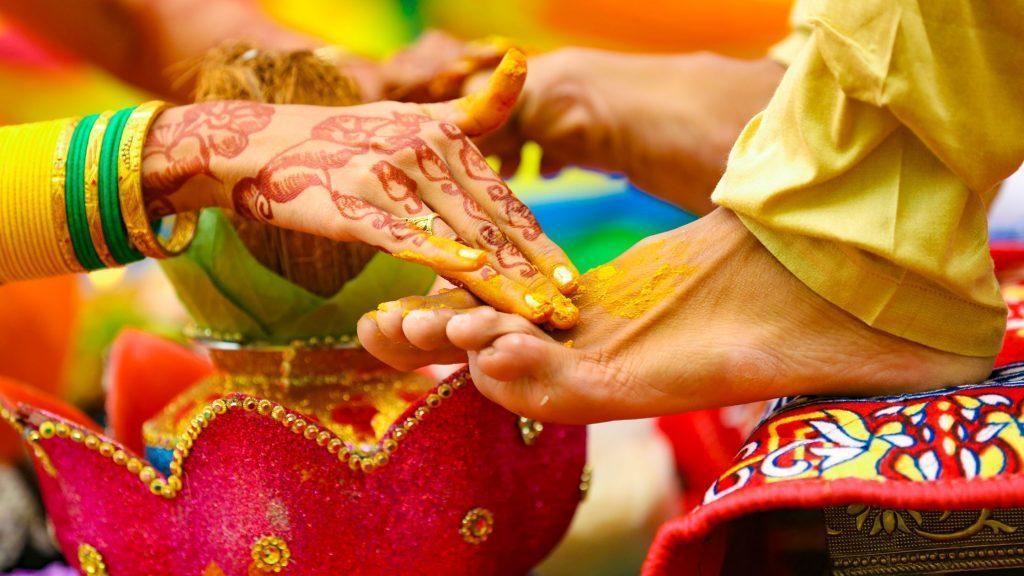 Indian culture values the Haldi rasam as it aids body cleansing and purification. Turmeric is an effective exfoliator and is supposed to ease a few of the groom's and bride's pre-wedding tension while improving beauty.
People traditionally prepare a paste utilizing Haldi and various components following their particular cultural significance. Traditionally Haldi was grounded at home by the females as love and blessing for the couple.
Some cultures also combine Haldi with rose water, while others combine it with sandalwood powder and milk. After the Haldi procedure, rinsing the mixture off assists in removing dead skin cells and refresh your skin.
Traditional dances and music are occasionally performed along with this ritual. In several traditions, the groom and bride also give their bachelor siblings and friends a little amount of this holy paste. According to belief, anyone contacted by this material will quickly meet an attractive companion.
Rituals of The Haldi Ceremony
Before weddings, the grooms and the brides must undergo a Haldi ceremony where a paste of Haldi is administered to their bodies. On the wedding day, in the morning, the Haldi ceremony is performed at the groom's and bride's residences.
Besides, it is performed a day before the wedding in a few cultures. Many cultures have names for this ceremony, such as tel Baan, mandha, ubtan, and more.
The groom's and bride's family and loved ones then apply this paste over their faces, necks, feet, and hands. After application, it is rinsed off with milk or curd.
Besides, the yellow color is linked to pleasure, tranquility, and new horizons. Yellow is also regarded as fortunate in Indian culture. The groom and bride must wear yellow attire during the ritual to welcome harmony and prosperity into their wedding.
Samagri Needed For Haldi Ceremony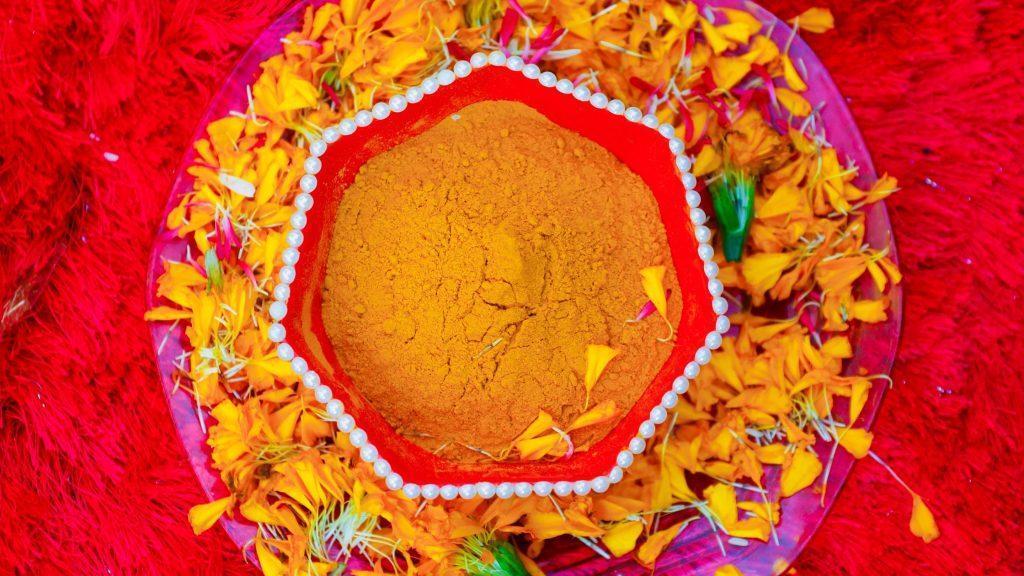 The groom and bride each host a Haldi ceremony, also known as a pithi ceremony, at their respective places a few days before a Hindu wedding. The pair shouldn't see either of them or go anywhere after the Haldi ritual until their wedding. The samagri needed for a Haldi Ceremony include the following:
Haldi or Turmeric Powder
Water or Rosewater
Sandalwood Powder
A Bowl To Prepare The Haldi Mixture
Mango Tree Leaves For Administering The Paste
Curd Or Milk To Remove The Paste
Pooja Thali
Haldi Puja
Haldi Paste is prepared by the elder members of the family and is then offered for Puja. Pandit Ji chants some mantras and offers it to God before applying it to the bride and groom.
Both families' female members perform the pooja and after that, apply the Haldi paste to the couple. Then all female friends apply it to the groom and bride. Although it is not typical for males to apply Haldi, nowadays, people allow their friends to indulge since the joy is doubled when celebrated with friends and loved ones.
Why Do You Need A Pandit In Haldi Puja?
A pandit must perform a haldi puja since it can tell about the ideal nakshatra and auspicious timing or shubh muhurat for a ceremony. Specifically, the Haldi ceremony during the right muhurat and nakshatra will bring joy and happiness in the couple's life.
SmartPuja will help you with the muhurat and nakshatra timings for your auspicious day.
Connect with our expert pandits on 080-61160400 to know more.
Pandit Booking For Haldi Ceremony With SmartPuja
SmartPuja will assist in guiding you for the Haldi ceremony through their expert pandits and purohits. Our experts will help you with ideal muhurats and carry the required ceremony samagri at no extra cost. Moreover, we will also provide a checklist for the items that doers need to collect for the ceremony.
Connect with our experts through-
Frequently Asked Questions
1. Is the Haldi ceremony important in Hindu culture?
The Haldi ceremony has a cultural significance because of its auspiciousness, the divine glow it gives to the bride and groom, and relaxes their minds. It also brings happiness and peace in their new beginnings, blessings by the elders, and purifies the groom and bride's soul and body.
2. When is the Haldi ritual performed?
The Haldi ritual or haldi ceremony is performed on the wedding day's morning of a Hindu wedding, but some people perform it a day before the wedding.
3. How is the Haldi ceremony done?
The Haldi ceremony is performed for a bride and groom by applying haldi (turmeric) on their face, hands, and feet as a divine blessing for their new beginning.
4. What restrictions are imposed on a bride and groom after the Haldi ritual?
After the haldi ceremony groom and the bride are not supposed to step out of their places.
5. Which samagri is essential for a Haldi ritual?
The essential ceremony for the haldi ritual is Haldi powder, water or rose water, sandalwood, and milk or curd.