"Muhu" signifies "moment," and "rat" signifies "order." Subh Muhurat is described as a chosen favorable period for performing something auspicious. Therefore, a "muhurat" is an "opportune hour and is regarded as an opportune moment in the Hindu calendar. It is thought that throughout the Muhurat, the planets position or align perfectly so that any action performed will be successful and free from the impact of bad forces.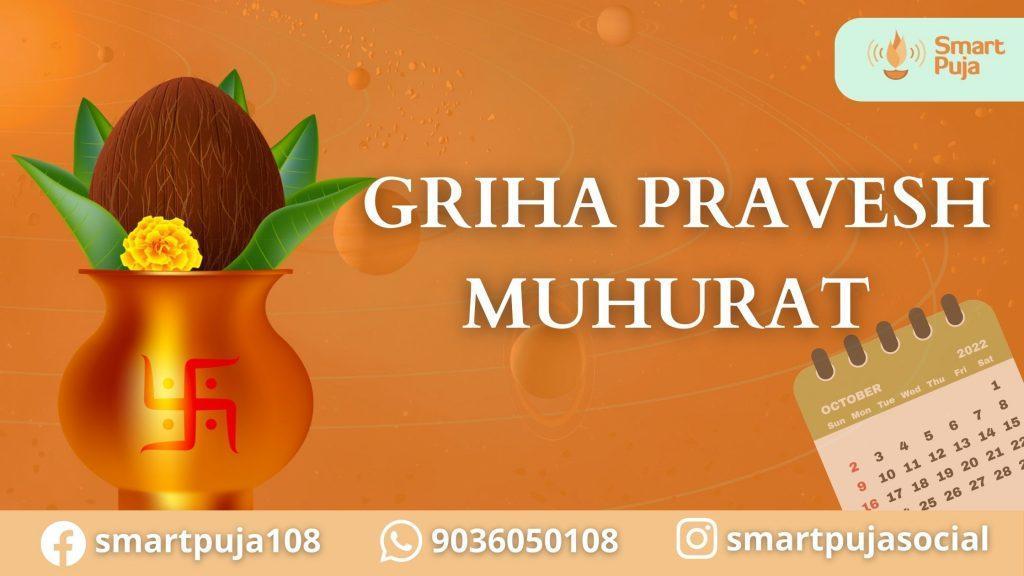 What is the Significance of Muhurat in Religious Ceremonies?
Hinduism frequently performs or abstains from rituals, such as significant religious festivals, depending on the merit of a particular muhurat. The term "muhurat" for fortunate and unlucky times is important in religious ceremonies.
Griha Pravesh Puja Muhurat 2023
Month
Muhurat Day/Date/Time 
January 2023
Wednesday, 25th January- 08:05 PM to 07:12 AM, 26th January
Friday, 27th January- 09:10 AM to 06:37 PM
Monday, 30th January- 10:15 PM to 07:10 AM, 31st January 
February 2023
Wednesday, 1st February- 07:10 AM to 02:01 PM
Wednesday, 8th February- 08:15 PM to 06:23 AM, 9th February
Friday, 10th February- 12:18 AM to 07:03 AM, 11th February
Wednesday, 22nd February- 06:54 AM to 03:24 AM, 23rd February
March 2023
Wednesday, 8th March- 06:39 AM to 04:20 AM, 9th March
Friday, 10th March- 06:37 AM to 09:42 PM
Monday, 13th March- 09:27 PM to 06:33 AM, 14th March
Friday, 17th March- 06:29 AM to 02:46 AM, 18th March
April 2023
No Griha Pravesh Muhurat is available for April 2023
May 2023
Saturday, 06th May- 09:13 PM to 05:36 AM, 7th May
Monday, 15th May- 09:08 AM to 01:03 AM, 16th May
Saturday, 20th May- 09:30 PM to 05:27 AM, 21st May
Monday, 22nd May- 05:27 AM to 10:37 AM
Monday, 29th May- 11:49 AM to 04:29 AM, 30th May
Wednesday, 31st May- 06:00 AM to 01:45 PM
June 2023
Monday, 12th June- 10:34 AM to 05:23 AM, 13th June
July 2023
No Muhurat for July 2023 is available for Griha Pravesh
August 2023
No Muhurat for August 2023 is available for Griha Pravesh
September 2023
No Muhurat for September 2023 is available for Griha Pravesh
October 2023
No Muhurat for October 2023 is available for Griha Pravesh
November 2023
Friday, 17th November- 01:17 AM to 06:46 AM, 18th November
Wednesday, 22nd November- 06:37 AM to 06:50 AM, 23rd November
Thursday, 23rd November- 06:50 AM to 09:01 AM
Monday, 27th November- 02:45 PM to 06:54 AM, 28th November
Wednesday, 29th November- 06:54 AM to 01:59 PM
December 2023
Friday, 08th December- 08:54 AM to 06:31 AM, 09th December
Friday, 15th December- 08:10 AM to 10:30 PM
Thursday, 21st December- 09:37 AM to 10:09 PM
Kalash Puja Muhurat 2023
| Day/Date | Time  |
| --- | --- |
| Wednesday, 22nd March | 05:51 AM to 07:04 AM |
| Sunday, 15th October | 11:43 AM to 12:29 PM |
Precautions You Need to Take While Finalizing Griha Pravesh Muhurats
Avoid Griha Pravesh on a Sunday or Saturday.
Avoid the months of Paush, Ashwin, Bhadrapada, Shravan, and Ashadha for Griha Pravesh.
How can SmartPuja Help You with Muhurats?
SmartPuja suggests the best muhurat for your Griha Pravesh Puja, Vastu Shanti Puja, Kalash Sthapana, or other religious ceremonies. It also provides the best-in-class service for organizing pujas, arranging samagri, decorative, and all required for a ceremony through the most knowledgeable pandits and purohits. You can connect with SmartPuja through the following details:
FAQs Related to Griha Pravesh Muhurat
1. Can you do Griha Pravesh without Muhurat?
It is not advisable in Hinduism to do a Griha Pravesh without a muhurat.
2. Which Month Is Best For Griha Pravesh?
The best month for Griha Pravesh is March in 2023.
3. Which Muhurat Is Good For Griha Pravesh?
Chaitra Navratri from 22nd to 31st March is good for griha pravesh in 2023.
4. How to find Griha Pravesh Muhurat, According To Rashi?
SmartPuja will advise you on the best muhurat as per your Rashi.
5. How to find Griha Pravesh Muhurat By Name?
You can reach SmartPuja to know the best muhurat as per your name.
6. How To Find Griha Pravesh Muhurat?
Although you can find out Griha Pravesh Muhurat Online, SmartPuja will guide you to the best one according to the tithi and nakshatra.
7. Which month is not good for Griha Pravesh?
April, August, September, and October are not auspicious for Griha Pravesh in 2023.