Pitru Paksha is a 16 day period in Hindu calendar when Hindus pay homage to their ancestors (Pitrus). Pitru Paksha literally means "fortnight of the ancestors" and follows the fortnight immediately after the Ganesh Chaturthi festival. It begins on the first day of the fortnight (Padyami) ending with the new moon day known as Pitru Amavasya. We owe a karmic debt to our ancestors. By dutifully performing 'Pind daan' during Shradha, we can pay homage to our Pitrus or ancestors.
SmartPuja provides customers will end to end Hassle-Free Puja services. For Pitru Paksha Puja, we'll send an experienced North Indian Pandit Ji from our team. Puja is performed with proper Vedic rituals. We'll also send all Puja items and materials. From your side, you need to keep sweet, fruits, Panchamarit ready along with some household utensils.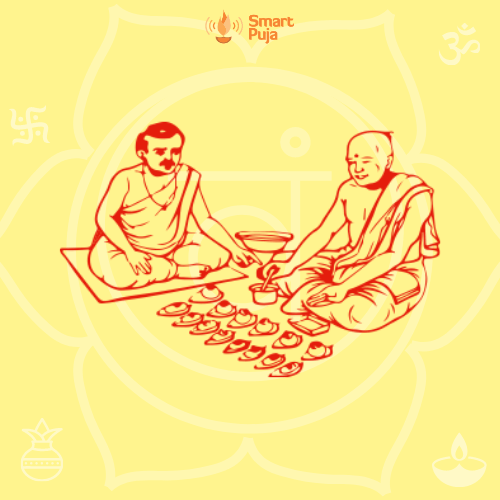 Pitru Paksha Puja Rituals :
Puja rituals include Aasan Shuddhi, Shareer Shuddhi, Pavtrikaran, Ganga Ahvahan, Shikha Bandhan, Swastivachan, Shanti Paath , Sankalp, Dev Tarpan, Rishi Tarpan, Pitra Tarpan, Pind Daan, Panch grass rituals etc.
Duration : 1-1.5 hours
Price : Rs. 4100/- all inclusive.  This includes Purohit's dakshina, Puja items and Samagri and travel expense.
With Havan added, Puja Price is Rs 4600/- all inclusive.

Booking Procedure :
You can book the Puja on Book a Pandit section of our website or over Call @ 080-61160400.
We'll need some basic information like :
– Full Name:
– Mobile Number:
– Email Address:
– Location Address:
Your Puja booking details are shared over email and Whatsapp. You'll also receive advance payment link for 30% of the total amount. Your booking is confirmed with the advance payment. The balance amount is paid in cash or online, after completion of the Puja. We'll also share the list of items (like Plates, Bowls, Spoons, Napkins etc.) that you'll need to keep ready before the Puja.
Please click on the link below to book this Auspicious In-person Puja –
You may also book the Puja on call at 080-61160400 or through WhatsApp at 8884443240. Please feel free to call us for any queries.
SmartPuja has a team of Qualified, Knowledgeable and Experienced Pandits who perform Pujas as per your community, language and region specifications. We take care of the entire process, right from booking and assigning the right Pandit, with best Muhurat, Puja Items, Puja Samagri, Flowers etc. All you need to do is to book the service, sit back and relax while we work on ensuring that you get a satisfying and divine Puja experience.
---