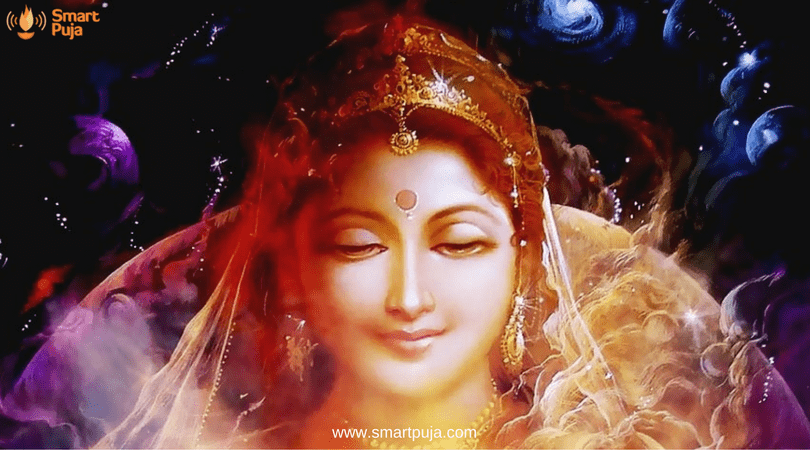 Gauri Habba (Festival) is celebrated in households a day before Ganesha Chaturthi. Gauri Maa, a very fair complexioned incarnation of Goddess Parvati, is worshiped for her ability to bestow upon her devotees power, courage and valour. She is the most powerful of all the Goddesses and is the very incarnation of Aadi Shakti Mahamaya.
During the festival Gauri Idol is worshiped along side Ganesha's idol and is usually brought a day before the onset of Ganesha Chaturthi. It is usually placed for three days – first day is the arrival (Avahana), next day is worship , and on the third day Mata's idol is given a warm visarjan and immersed in water along with Ganesha Idol. Arrival of Goddess Gauri in homes is considered to be the herald of health, wealth, happiness and prosperity.
In the lunar month of Bhadrapada (a Hindu month) Goddess Gowri is welcomed at her patent's house. The next day Lord Ganesha, her son, comes as if to take her back to Kailasa. The Swarna Gowri Vrat is performed on the occasion to appease the Goddess. It is a significant festival in parts of Karnataka, Andhra Pradesh & Tamil Nadu. This festival is also celebrated as Hartalika Teej in Maharashtra and other North Indian states.
Swarna Gowri Vrat
On this day, women and young girls are in new/grand traditional attire. They make either Jala-Gauri or Arishinada-Gauri (a symbolic idol of Gowri made of turmeric) and bestow her for Puja. These days ready-made beautifully painted and decorated clay idols of Goddess Gowri can be bought along with Ganesha statues. The goddess's idol is mounted in a plate, with a cereal (rice or wheat) in it. According to the Vrat ritual, Asthis pooje is to be performed with 'suchi' (cleanliness) and 'shraddha' (dedication). A mantapa is built around the idol and decorated with banana stem and mango leaves.. The Gauri is decorated with decorations made of cotton, vaster (silk cloth/saree) and flower garlands. Women get their 'gauridaara' (a sacred thread with 16 knots ) tied to their right wrists, as blessings of Gauri and as part of the Vrat.
Another specialty of this festival is that the 'Tavaru Maneyavaru' (married woman's parents / brothers) send Gauri Habbada – Mangaladravya (a form of gift) to the married girls of their family. These days some send money as representation of Mangaladravya. The festivities continues to the next day with the celebrations for Lord Ganesha's Festival .
---