If you're a passionate and true believer of Hinduism or Buddhism, the Satyanarayan puja is a familiar term and practice for you and your family. The Satyanarayan Puja is one of many popular but potent Puja rituals. Anyone who desires a good life should perform.
Satyanarayan Puja is properly done within specific time frames and occasions, such as on the new moon and full moon days. Significant periods and seasons to carry out the Satyanarayan puja are; Karthik, Sankranti, Chaitra and Shravan, Purnima, and Vaishakh.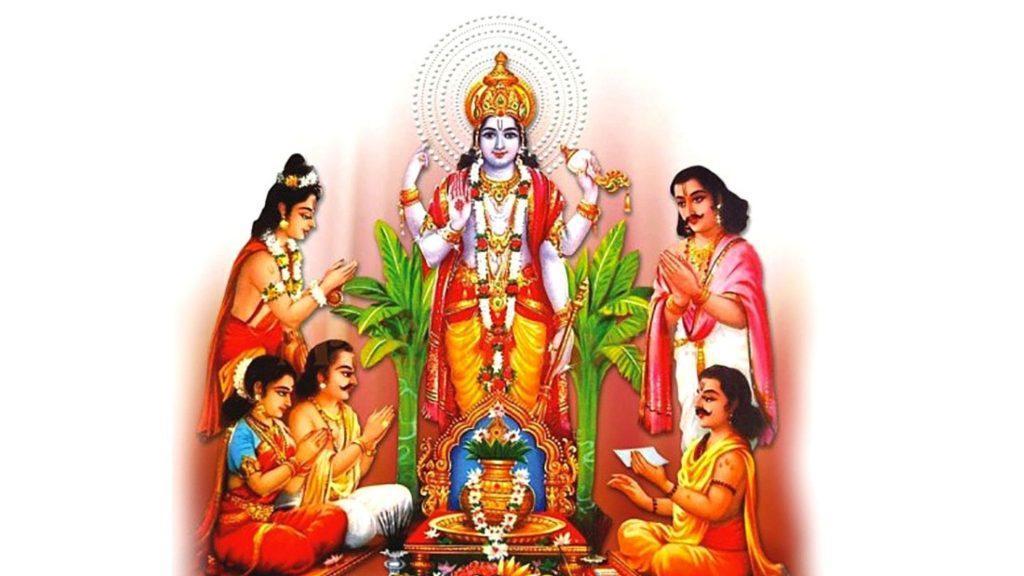 Every Puja needs to be performed well and to do that, the best quality sacred samagri items (ingredients and tools) and a proficient oratory of the mantra are required. Blessings like happiness, good health, and wealth are a few you can have with this easy but powerful Puja.
Before commencing this puja, however, it is very important to prepare all that is required (samagri) with detailed accuracy, and a checklist is often needed for that.
Understandably, many Indians and devotees do not have all the information and knowledge required to prepare for this; fortunately, they don't need to. This is because SmartPuja, an online website, provides sacred and traditionally rooted Puja services like; booking the best pandits and purohits of your choice and specification, multiple Language options, Puja Samagri (Materials) for all kinds of puja you may wish to do, they have you covered!
SmartPuja will help you with your checklist and provision of Santyanarayan puja samagri; Ghee diya, Supari, puja coin, Dhoop stick, rose water, Gangajal, Janeu, Kapur, Attar. . . the list goes on.
Samagri for Satyanarayan Puja
| Puja Items | Quantity |
| --- | --- |
| Prasad | – |
| Rose Water Bottle 1 | 100ml |
| Sugar | 2 lbs |
| Flower Garland 1 Assorted Flower (Rose, Mums, Marigold etc…) | 50/60 flowers |
| Cashews and Raisins | 1 small packet |
| Milk | 1 gallon |
| Plain Yogurt | 1 small cup |
| Fruits (Mango, Banana, Apple, Orange, Grapes, Pear, Peach ) | Mix any of these 5 Types of seasonal fruits |
| Rice | 2.5kgs/ 5.5 lbs |
| Wheat Sooji | 2lbs |
| Coconuts | 7 |
| Honey 1 small bottle | 25 grams |
| Pure Ghee Diya and Ghee | 5 sets and 100ml |
| Blouse piece(Red/Green/Yellow) | 1 |
| Large White Towel (Altar Cloth) | 1 |
| Quarters (coins) | 50 |
| Mango leaves – if available | 2 bunches |
| Nava Dhanyam – ( all dhanyams separate) – Optional | 1 packet |
| Turmeric | 1 packet |
| Kharik, Badam, Raw Haldi | 5 pieces |
| Kapur | 50 grams |
| Plastic bowl | 1 |
| Gangajal | 100ml |
| Attar | 3ml |
| Janeu | 2 Sets |
| Panchmeva | 50 grams |
| Akshat | 50 grams |
| Gomutra | 30ml |
| Brass kalash with Nariyal | – |
| Agarbatti | – |
| Mouli (holy thread) | – |
| Supari | – |
Satyanarayan Puja Vidhi
The process (Vidhi) of Pooja is defined by 16 sequential rituals involving the use of specific puja samagri, marked intermittently with specific mantras unique to each subset ritual offered to Lord Narayana.
For the sake of editorial brevity, we'll cover a few of these.
The first ritual begins with performing the first ritual mantra in front of the picture of Lord Narayana and reciting the opening mantra.
Afterwards, the Avahanam is placed in front of the lord's picture by adjoining the palms, and then the mantra required is cited. Five flowers at the feet of Lord Narayana while performing the Asana ritual.
"Padyam" is a ritual that includes offering water on the feet of Lord Narayana. The final ritual is concluded by offering betel leaves with mantra recitation. To complete the puja, a group aarti (ritual song) is recited while keeping flowers in hand to be offered after the aarti at the feet of Lord Narayana.
Benefits of Performing Satyanarayan Puja
Performing this sacred act well and following the right instructions will do much for everyone involved. This is why Santyanarayan puja has become very popular more recently, especially not limited to states in India like Bengal, Uttar Pradesh, Gujrat, Maharashtra, and many more.
As earlier explained, people can get harmony, sound mind, prosperity, and more from performing this Puja.
More benefits of participating in Satyanarayan puja are:
It relieves people of their worries and anxiety.
Performing this puja brings peace.
It creates wealth for you.
You will defeat all enemies and obstacles.
You will experience happiness in life.
Cleanses your home from negativity and provides liberation from bad forces (moksha).
Why Do You Need Professional Pandit for Satyanarayan Puja?
While it is possible that anyone can perform the ritual, not everyone, especially one lacking a deep understanding and knowledge of the religious books, would be able to carry it out as appropriate. Only a proper procedure that is rightly done, including reciting sixteen ritual mantras, guarantees the desired results.
In place of this, many individuals and families would prefer to opt for an experienced pandit to perform the Puja. To seek the blessings of the Puja you want to the highest degree, by proper ritual processes, many would further suggest that the services of SmartPuja are required.
SmartPuja can be contacted from the comfort of your house or office through their website to provide a pre-selected and experienced Pandit of your choice, alongside the requisite samagri, to your abode for your spiritual needs. With their impressive track record of results which shows in the multitude of 5-Star reviews from satisfied clients, they can provide one of the best spiritual experiences you could ever ask.
SmartPuja offers different puja services, e-puja services, astrology services, catering, photography, decoration, and other services in Bangalore, Chennai, Delhi, Ahmedabad, Kolkata, Pune, Mumbai, Hyderabad and many other parts of India. Connect with our expert pandits via-
FAQs Related To Satyanarayan Puja Samagri
1. What is the significance of Satyanarayana Puja?
The Satyanarayan puja is an embodiment of truth in identity and practice. Hence, Satyanarayan puja is not about a ritual to remove problems but primarily about practising the truth, as it is a purifier that leads to happiness.
2. Should I wash the samagri before pooja?
You can sprinkle clean water over samagri before starting the puja.
3. Can we perform Satya Narayan Puja without samagri?
You can read the Vishnupuran or Satya Narayan path by lighting up Ghee diya at your home. Reciting the path daily is also considered beneficial for financial gains. 
4. From where can I buy Satya Narayan Puja Samagri in Bangalore?
You can find various puja item dealers in Marathahalli, Koramangala, Rajajinagar, Indiranagar, Malleswaram, Whitefield, Electronic City, Jp Nagar, Jayanagar, and other parts of cities. When you book Satya Narayan Puja with SmartPuja, you don't need to bother about samagri as we take care of it.