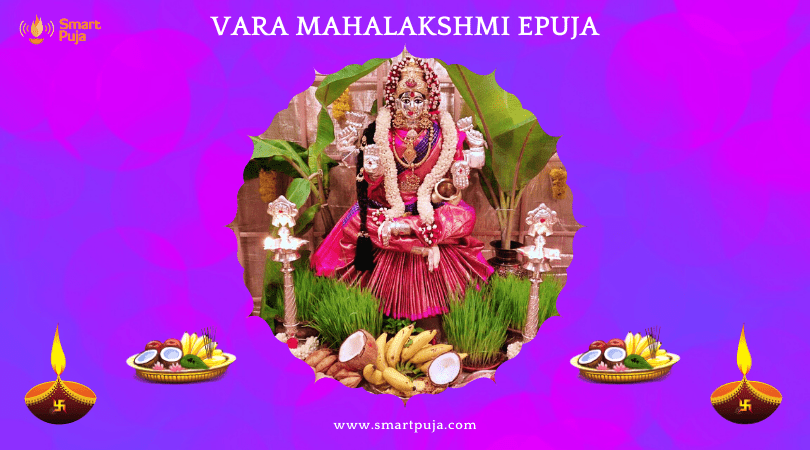 The pandemic has shown us that despite our technological achievements, we are all still very vulnerable. And in these times, faith makes a resurgence. More than in times of prosperity, it is during a crisis like this, that we truly look to a higher power. We may be living in a state of lockdown, but our prayers don't have to be.
And so, we are organizing a group E-PUJA, that ensures you celebrate this vibrant festival with your family, from the safety of your home.
Celebrate Vara Mahalakshmi Puja authentically, with an experienced Purohit LIVE, online!
Vara MahaLakshmi E-Puja

Vara MahaLakshmi Puja is celebrated to appease Goddess Lakshmi, the consort of Lord Vishnu. This festival falls in the holy month of Shravan on the first Friday before the Purnima (full moon day), corresponding to the months of July – August. Married women undertake the Vrath for good progeny, good health and wishing long life for their husbands. It is widely believed that worshiping Goddess VaraLakshmi on this day is equivalent to worshiping the Ashta-Lakshmis: eight forces of energies.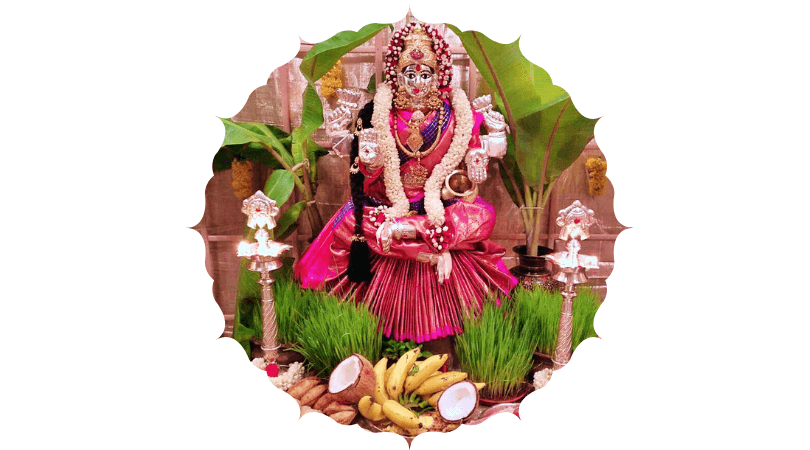 Puja Rituals include:
Ganapati Puja, Sankalpa, Kalasha Aaradhana, MahaLakshmi Aavahana, Shodashopachara Puja, Abhisheka, Ashtottara Dhoopa, Deepa, Naivedyam, Mahamangal Aarthi, Mantra Pushpa, Prarthana, Aashirvachanam, Prasada Vinayoga etc.
The Puja will be meticulously performed as per vedic rituals and you will be educated about the significance of the rituals.You will take Puja Sankalp, perform the rituals at your home, and chant the shlokas and mantras along with the Purohit. We'll share a checklist of Puja items and Puja Samagri that you'll need to keep ready at your end. This includes Flowers, Leaves, Sweets, Fruits and Panchamrit along with Sringaar items (Mangal Dravya) for the Goddess.
NOTE:
– The Puja will be performed LIVE over a ZOOM Video session. This session is broadcasted live for registered users only.
– All registered users will be sent a dedicated zoom link for the session, on a first come first served basis.
– The Puja registration is one per family, and all family members can participate in the Puja together with it.
– Puja duration is around an hour. Total price is Rs 1500/- all inclusive.
Please click on the link below to Register for this Puja.
SmartPuja has a team of Qualified, Knowledgeable and Experienced Pandits who perform Pujas as per your community, language and region specifications. We take care of the entire process: booking and assigning the right Pandit with the best Muhurat, Puja Items, Puja Samagri  etc. All you need to do is to book the service, sit back and relax while we work on ensuring that you have a satisfying and divine Puja experience.
We just have one prayer, and it is that may you always stay blessed.
---